Code Green Apparel Corp (OTCMKTS:CGAC) Pumped Sky-High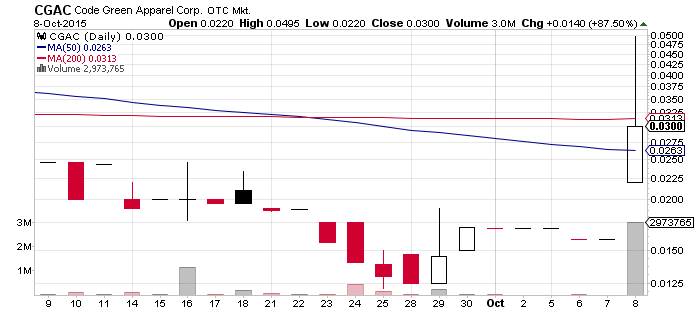 Several years ago, George Powell, Code Green Apparel Corp (OTCMKTS:CGAC)'s CEO, was at the helm of a company called REUSE Jeans. As the name would suggest, it was in the business of using recycled cotton fabric to produce brand new eco-friendly jeans, and the idea was so interesting, that Mr. Powell appeared on several TV shows to talk about it. At one point, he told Fox News that his company is very close to profitability. Has it worked?
We wouldn't bet the farm on it. REUSE Jeans' Facebook page is still alive, but the latest post is now almost three years old, and the corporate website appears to have been taken down some time ago. We can find absolutely no news or other recent information about the company which suggests that things haven't gone according to plan.
We don't know for sure what has happened to REUSE Jeans, but we do know what's going on with Mr. Powell's current venture – CGAC. In a word, the stock is targeted by the paid promoters and it's climbing the charts.
Momentum OTC as well as a few other promotional outfits are responsible for this and although they received a relatively modest $10 thousand, their efforts had quite an impact on the market. Yesterday, investors traded nearly 3 million shares which pushed the dollar volume up to almost $100 thousand. The ticker managed to gain a whopping 87% and it reached a close of $0.03 per share for the first time in over a month. People are definitely interested which means that we'll now check out the company and see if there's anything you need to be worried about.
The filings say that Mr. Powell is a veteran in the apparel industry, but the unknown fate of REUSE Jeans doesn't really suggest that his track record is squeaky clean. To top it all off, CGAC's current financial situation isn't particularly encouraging. Here's what the figures looked like at the end of June:
cash: $116,543
total assets: $308,700
total liabilities: $1,819,375
NO revenue since inception
quarterly net loss: $608,684
On the bright side, Mr. Powell is trying to make the company as transparent as possible. When he took the helm, CGAC was using the alternative reporting standards, but the figures above come from an S-1 registration statement which, the management team says, is the first step towards becoming an SEC filer.
Thanks to it, we can see some details that many Pink sheet companies prefer not to talk about. We can see, for example, that last year, CGAC picked up as much as $173,500 worth of convertible debt and we can see that during the first half of this year, the same amount was converted into 14,660,440 shares of common stock which brings the average conversion rate down to just over $0.01 per share. We can also see that between April and June, the company issued a further 50,000,000 shares at approximately the same price and we can see that thanks to a settlement agreement approved back in May, CGAC will be forced to satisfy $530,000 worth of past due debt with shares valued at 50% of the market price.
All in all, CGAC's prospectus told us that the threat of a vast number of cheap shares hitting the open market is looming. This is something you should definitely bear in mind before you decide what your next move will be.