Guided Therapeutics Inc (OTCBB:GTHP)Suffers Another Correction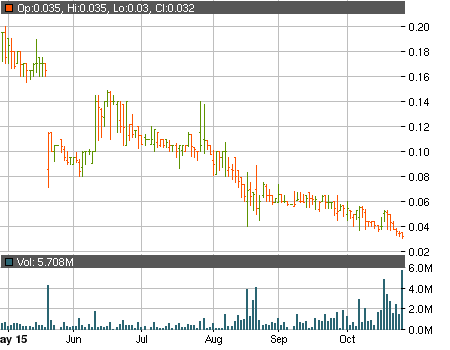 Guided Therapeutics Inc (OTCBB:GTHP) continued to sink lower and lower down the chart during yesterday's trading despite the new PR they issued. The company announced that it is negotiating with three different groups for the rights to sell GTHP's LuViva Advanced Cervical Scan in China and other Asian markets. To say that the news failed to get investors excited would be an understatement.
Opening at $0.0355 GTHP almost immediately headed for the bottom of the chart and during the session their stock registered a new 52-week low of $0.0301. At least the ticker closed a bit higher at $0.032 for a loss of 7.25%. The correction took place on a daily volume of 5.7 million shares, also a record for GTHP. So far the company has logged six consecutive sessions ending in the red.
The last time GTHP enjoyed a more positive trading was on October 19 when they surged up the chart for a gain of over 30%. Unfortunately the performance becomes far less impressive when you take into account that it was influenced by a paid pump. Late in the evening on the previous day a round of alert emails was sent by PennyStockLocks, Momentum OTC, and InsiderStockProvider. For their services the pumpers bagged a compensation of $11,500.
Investors should also note that during the first nine months of 2015 the common stock of GTHP was diluted significantly. The outstanding shares of the company grew from around 97 million to over 143 million. During a shareholder meeting that took place back in September an increase of the authorized shares to 500 million was approved. For November 11, however, another meeting of the stockholders has been scheduled. This time a vote will be held on an increase of the A/S to 1 BILLION and on a potential reverse split.
On November 6 GTHP will meet with the Food and Drug Administration to review the company's plan for a premarket approval application for the LuViva Cervical Scan. Earlier this year the FDA declined to approve the scan recommending that GTHP should include more patient data next time.
At the end of September the company shipped the first units under the massive $14 million order spanning four years from the Turkish Ministry of Health and as a result their revenues should receive a nice boost.
Despite the positive aspects around GTHP trading their stock remains extremely risky. Even if you believe in the potential of the company's products take the time to assess the red flags thoroughly before putting any money on the line.