Hybrid Coating Solutions Inc (OTCMKTS:HCTI) Crashes Hard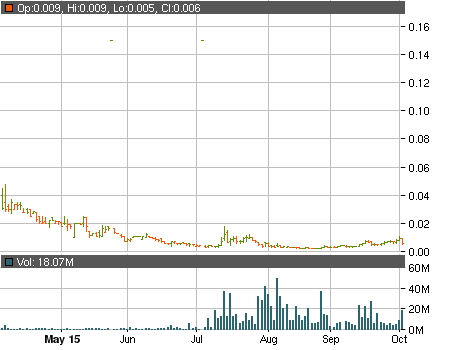 Back in August Hybrid Coating Solutions Inc (OTCMKTS:HCTI) announced that it is finalizing the negotiations and review of the definitive agreement with its Fortune 500 Partner and that the agreement is expected to be executed by the end of September. The hype generated by the news helped the stock to form one impressive chart moving from deep into the double-zero prices to a high of $0.108 on October 1.
Last Friday, however, HCTI suffered a devastating crash wiping over 37% of its value and closing at $0.00562. The fact that September is now over and there have been no new updates about the progress of the deal could cause investors to become increasingly worried. Without anything to keep the excitement going the massive red flags surrounding HCTI could quickly depress the company's stock back to its previous price ranges.
According to the latest financial report at the end of June 30 HCTI had:
• NO cash or current assets
• $1.6 million in intangibles
• $6.8 million in current liabilities
• $4 thousand revenues
• $735 thousand net loss
That is right, back then the company had zero current assets, working deficit of $6.8 million, minimal revenues and accumulated deficit of over $25 million.
To make matters even worse HCTI's common stock has also been severely diluted. As of December 31, 2014, the company reported 44.1 million outstanding shares while as of August 26, 2015, there were 336 million outstanding shares. The majority of the newly printed shares came into existence in July and August when the company issued 114.5 million shares at $0.0021 while through the conversion of notes 128.8 million shares were issued at $0.0018 each.
The company received some funds by selling two new convertible notes in July but that doesn't improve their balance sheet by much. Not to mention that the recent increase of the authorized shares from 650 million to 1.6 billion creates even more room for the future issuance of shares. HCTI should be approached with caution and any trades involving their stock should be preceded by extensive due diligence.