Pazoo Inc. (OTCMKTS:PZOO) Tries To Recover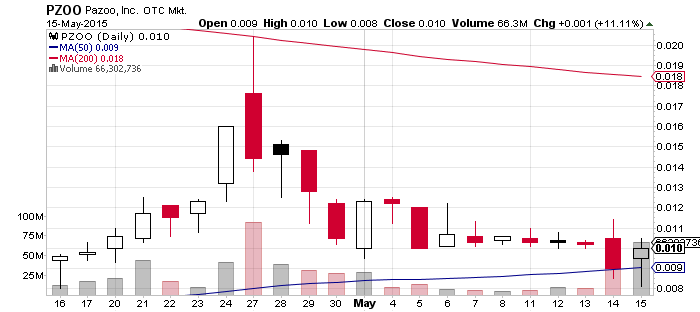 Pazoo Inc. (OTCMKTS:PZOO) managed a nice 11.11% recovery on Friday, after it published some good news.
If PZOO's PR is to be believed, the "grand opening" event for its Las Vegas testing lab will be held in the afternoon of Wednesday, Jun. 3, 2015. The event is to double up as the 2015 Pazoo Fest and will be open to the public. A special invitation was specifically extended to shareholders to attend.
As evidenced by PZOO's recovery, that was enough to divert the investors' attention from the horrible annual financials the company announced just the day before:
Cash – $733 thousand
Total assets – $848 thousand
Total current liabilities – 3.6 million
Revenues – $111 thousand
Gross profit – $110 thousand
Net loss – $4.8 million
Investors may also have drawn hope from the notification that hit the web on the same day and announced that PZOO's missing 10-Q "will be filed on or before the fifth calendar day following the prescribed due date". That means that said report should hit the web tomorrow and shed some much needed light on the company's current financial state, and even more importantly – its share structure.
Investors would probably do well to watch out for that report, as the numbers in it are likely to dictate in which direction PZOO will head in the immediate future.