Pharmacyte Biotech Inc (OTCMKTS:PMCB) Gets More Pumps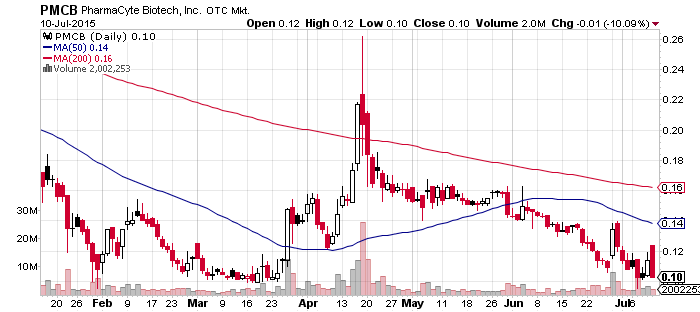 After a bout of excitement in mid-April and a couple of recent attempts at recovery, on Friday Pharmacyte Biotech Inc (OTCMKTS:PMCB) sank 10% and returned to just over a dime per share and just a breath above its lowest closing price for the past 52 weeks.
Sadly, wherever Pharmacyte goes, paid stock pumps follow. Over the six and a half months of 2015 so far, there have been over 160 pumps targeting PMCB, the majority of them compensated with varying amounts of money. The last push was in the form of seven paid pumps coming through last Thursday.
On the very next day the company put out an official press release, informing of switching transfer agents and dropping Signature Stock Transfer in favor of American Stock Transfer & Trust Company or AST. Outside of the usual courtesies and generalities that accompany the switch of an important service provider, nothing of any real consequence was announced in the news release.
The promotional history of PMCB extends beyond the start of 2015, back into the time when the company was trading under the NVLX ticker as Nuvilex, Inc. and there are a few dozen pump emails for NVLX as well.
The latest pump push advertized the recent inclusion of PMCB on a Discovery Channel broadcast, but obviously the combined excitement generated by the promotions and the transfer agent swap was not quite enough to carry PMCB up over two consecutive days.
Here is what PMCB had to show on its balance sheet as of Jan 2015:
$958 thousand in cash
$378 thousand in total liabilities
zero revenues
$1.4 million in quarterly net loss
PMCB has all the signs of a pharmaceutical company that is really doing its best to make it but with Cream Consulting – the paying party behind the majority of the PMCB pumps – hovering like a dark could over the ticker and financing a neverending promotional campaign for it, it's perhaps best to approach cautiously.